The Sandman Will Keep You Awake - The Loop
Play Sound
The Three Swords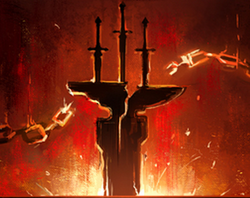 The Sword Brothers are Arthur Pendragon of Arthurians, Nuada Airgetlám of Tuatha Dé Danann and Sigurd the Dragonslayer of Vikings.
They were the original three claimants of the three mysterious and powerful swords left on this world by the Emissaries after the First Breaking of the world. Although they may have had other names or identities previously, the swords transformed each one into what they were most like inside, so they could be leaders of the people.
Each brother is the founder of one Realm, now in the state of war with each other, which emerged after the Great Betrayal caused the Second Breaking of the world. Nuada died heroically in The Depths while Sigurd and Arthur still lead their Realms, fighting to dominate and shape the world.
Videos
[
]
Mark tells us the story about the Sword Brothers and how the geeat war began:
Sources
[
]