The Sandman Will Keep You Awake - The Loop
Play Sound
The Old World Map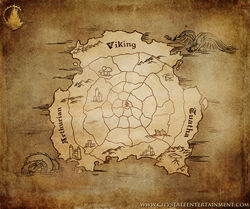 The Second Breaking of the world refers to the fall of the One True City of Camelot, when the stabilizers that held the lands together were pulled out. This both marked the beginning of the Great War between Realms and caused the islands of the habitable world to split apart in a great cataclysm that hearkened back to the First Breaking.
The Roots of the Great War
[
]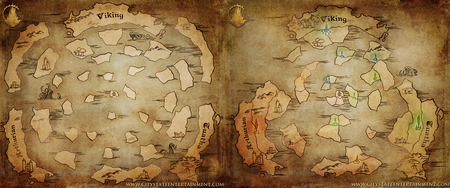 The Second Breaking and thus the Great War were caused in part by the following factors:
A lack of understanding that the One True City was meant for all to share.
Private and political disagreements, especially about the destiny of the world.
Growing populations of each Realm, hungry for more resources and territories.
All of the above culminated into the great betrayal by the Sword Brothers of one another, although who betrayed whom is in dispute.
Trivia
[
]
The Cait Sith sometimes refer to the Second Breaking as "the splitting of the pack-mates"
Camelot is (or was) in the very middle of the World map.
While Camelot was sinking and "Great holes tore open in the earth, and inexorably they began to swallow up the burning city as if they were alive" [1], somewhere deep below "...within the bowels of the earth, laughter rumbled and echoed throughout The Depths." [1]
Gallery
[
]
Videos
[
]
The legends of Emissaries, Sword Brothers and how the Great War began:
Sources
[
]
Tales of the One True City Pt 1
Tales of the One True City Pt 2
References
[
]