Mark Jacobs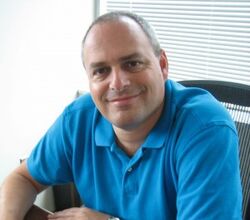 Mark Jacobs is the visionary behind Camelot Unchained. He is the co-founder of City State Entertainment, Mythic Entertainment, and founder of Adventures Unlimited Software Inc.
Facts about Mark Jacobs
[
]
Credited with leading the creation of two of the top two Metacritic MMOs of all time: Dark Age of Camelot, and Warhammer Online: Age of Reckoning. Mark was lead designer on both games, and has served in that role on all of his titles.
Creator of over two dozen games, including pioneering work in Online Casual Games, and worked with Hollywood on "day and date" game releases, dating back to Aliens Online (1997).
Created Dark Age of Camelot in 2001 (the #2 MMORPG in North America and Europe up to 2005) with a budget of $2.5M.
Developed and launched Warhammer Online (2008) in 3 years, which sold 1.2 million boxes (still within the top 5 retail launches for an MMO), and three months after launch, a peak of 500,000 subscribers.
Led business development effort at Mythic Entertainment, and secured investment from Abandon Entertainment (which led to development of Dark Age of Camelot) in 1999, TA Associates in 2002, and sale of the company to Electronic Arts in 2006.
Has multiple Hollywood credits, including two Executive Producer credits on the films Stan Helsing and And Soon the Darkness. Mark has also written two unsold film screenplays, and has two graphic novels in development.
Led one of the most successful Kickstarter computer game projects, Camelot Unchained. The game has raised over $3.5M to date, rising it`s total budget over $6.6M.
Interviews
[
]
1) The video below is The Opposition Podcast with Mark Jacobs, touching upon a wide range of topics - from Mark's earlier carreer to numerous aspects of Camelot Unchained; here (the first post in that thread) is the list of Camelot Unchained topics, in order in which they appear in the video.
2) Eurogamer Interview: Can Camelot Unchained kickstart MMOs?
Questions & Answers
[
]
1) Question (about Camelot Unchained): When the game launches, how will you measure success? Will it be a certain number of subscribers? Player or critical acclaim?
Mark Jacobs: 30-50K subs and 80+ on Metacritic would be great. We know we will have to cut corners with certain things that might hurt our scores with some critics - like musical score, trailers and interstitials (never liked them anyways). However, I hope that they will see the game for what it is and not for what it isn't due to smaller budget, independent development, etc. - like many did with Dark Age of Camelot.[1]

2) Chasing Mark - A chronological compilation of all the Kickstarter questions answered by Mark Jacobs
References
[
]