m

Line 5:
Line 5:
 

=Class Overview=

 

=Class Overview=

 
 
−

[[Camelot Unchained]] is planned to feature a variety of classes (under more general [[Archetypes]]) in each [[Realms|Realm]] at launch. The KickStarter funded five classes per Realm under the archetypes: tank, healer, dps, hybrid and crafter:

+

[[Camelot Unchained]] is planned to feature a variety of classes in each [[Realms|Realm]] at launch. The KickStarter funded five classes per Realm under the archetypes: tank, healer, dps, hybrid and crafter

−

<br />

+

<br />

−

''"Camelot Unchained will feature a selection of classes at launch, with the actual number dependent on meeting certain stretch goals. We support an extended version of the "Holy Trinity" as well as "rock, paper, and scissors", and initially, we'll have at least five classes (healer, tank, dps, hybrid, crafter) per realm. For more on how the RPS theory applies, please refer to [[Foundational Principles|Foundational Principle]] #6."'' <ref name="ks_project" />

+

''"Camelot Unchained will feature a selection of classes at launch, with the actual number dependent on meeting certain stretch goals. We support an extended version of the "Holy Trinity" as well as "rock, paper, and scissors", and initially, we'll have at least five classes (healer, tank, dps, hybrid, crafter) per realm. For more on how the RPS theory applies, please refer to [[Foundational Principles|Foundational Principle]] #6."'' <ref name="ks_project" />

 

<br /><br />

 

<br /><br />

 
 
−

The sixth launch class is based on the [[Archetypes#Archer Archetype|Archer]] [[Archetypes|Archetype]], having [[Camouflage]] as a crucial part of it`s mechanics. Archers were the first [[Stretch Goals|Stretch Goal]], which funded before the KickStarter ended.<ref name="ks_project">[https://www.kickstarter.com/projects/13861848/camelot-unchained/description Kickstarter Project Description]</ref>.<br /><br />

+

The sixth launch class is based on the [[Archetypes#Archer Archetype|Archer]] [[Archetypes|Archetype]]. Archers were the first [[Stretch Goals|Stretch Goal]], which funded before the KickStarter ended.<ref name="ks_project">[https://www.kickstarter.com/projects/13861848/camelot-unchained/description Kickstarter Project Description]</ref>.<br /><br />

 
 
 

A [[Pets|Spirit Pet]] class was introduced and funded through the Spirit In The Sky Extender Pack Plus #1. This class is slated to go in shortly after launch, but may make it in for launch if time permits without delaying the launch. <ref name="spirit_pet_sg">[http://camelotunchained.com/v2/stretch-goals/spirit-in-the-sky-extender-pack-plus-1/ Spirit In The Sky]</ref>.<br /><br />

 

A [[Pets|Spirit Pet]] class was introduced and funded through the Spirit In The Sky Extender Pack Plus #1. This class is slated to go in shortly after launch, but may make it in for launch if time permits without delaying the launch. <ref name="spirit_pet_sg">[http://camelotunchained.com/v2/stretch-goals/spirit-in-the-sky-extender-pack-plus-1/ Spirit In The Sky]</ref>.<br /><br />

 
 
−

[[Stealth]] classes became the focus of the current <ref name="stealth_sg">[http://camelotunchained.com/v2/stealth-unchained-our-next-stretch-goal-and-so-much-more-pictures/ Stealth Unchained]</ref> [[Stretch Goals|Stretch Goal]]. The initial proposal for a [[Veil]]-based [[stealth]] introduced during the KickStarter update #28 <ref name="ks_update28">[https://www.kickstarter.com/projects/13861848/camelot-unchained/posts/464295 Kickstarter Update # 28]</ref> and also covered in a [https://www.youtube.com/watch?v=zWQWvcvxOjI%5D video update], has been somewhat modified in this version. Besides the [[VeilWalker|VeilWalkers]] and [[VeilStalker|VeilStalkers]], the [[Scout]] class is added, and as [[Mark Jacobs]] [http://massivelyop.com/2015/07/31/camelot-unchained-wants-stealth-but-not-the-sucky-kind/#respond explained]: ''"The VW/VS will absolutely use the Veil for movement. <strong>Scouts</strong> might as well but I'd prefer to have [[camouflage]], [[Scout|spirit travel]] and the [[Veil]] as three separate mechanics for each archetype."''

+

[[Stealth]] classes became the focus of the current <ref name="stealth_sg">[http://camelotunchained.com/v2/stealth-unchained-our-next-stretch-goal-and-so-much-more-pictures/ Stealth Unchained]</ref> [[Stretch Goals|Stretch Goal]]. The initial proposal for a [[Veil]]-based [[stealth]] introduced during the KickStarter update #28 <ref name="ks_update28">[https://www.kickstarter.com/projects/13861848/camelot-unchained/posts/464295 Kickstarter Update # 28]</ref> and also covered in a [https://www.youtube.com/watch?v=zWQWvcvxOjI%5D video update], has been somewhat modified in this version. Besides the [[VeilWalker|VeilWalkers]] and [[VeilStalker|VeilStalkers]], [[Scout]] class added.

 
 
 
 
−

Much like the [[Pets|Spirit Pets]], the stealth classes are not confirmed for launch, though it will be attempted. If it is determined that these classes would delay launch, they will be implemented shortly after launch as [[Mark Jacobs]] explained:<br /><br />"''In terms of implementation, only Part 1 ([[Camouflage]]) is currently confirmed for launch.''

+

Much like the [[Pets|Spirit Pets]], the stealth classes are not confirmed for launch, though it will be attempted. If it is determined that these classes would delay launch, they will be implemented shortly after launch as [[Mark Jacobs]] explained:<br /><br />"''In terms of implementation, only Part 1 ([[Camouflage]]) is currently confirmed for launch.''

 
 
 

''If we think that Part 2 (Scouts) will delay the release of the game, it will be bumped post-launch, because it is outside of the original concept for stealth. However, I don't want to make this entire SG an Extender Pack, because I think it is important to get these guys in early if we are going to add true stealth as in Part 3. I'm hoping that some of the tech we will need for spirits will help us get scouts in at launch as well.''

 

''If we think that Part 2 (Scouts) will delay the release of the game, it will be bumped post-launch, because it is outside of the original concept for stealth. However, I don't want to make this entire SG an Extender Pack, because I think it is important to get these guys in early if we are going to add true stealth as in Part 3. I'm hoping that some of the tech we will need for spirits will help us get scouts in at launch as well.''

Line 24:
Line 24:
 
 
 
 
−

<br /><br />

+

<br />

 
 
 

==Class Archetypes==

 

==Class Archetypes==
---
Revision as of 04:54, 10 August 2015
Classes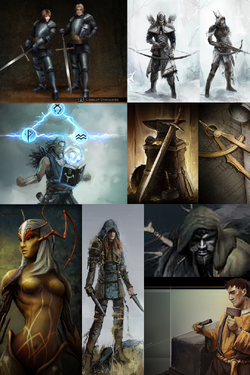 Class Overview
Camelot Unchained is planned to feature a variety of classes in each Realm at launch. The KickStarter funded five classes per Realms under the Archetypes: tank, healer, dps, hybrid and crafter.

Quote: "Camelot Unchained will feature a selection of classes at launch, with the actual number dependent on meeting certain stretch goals. We support an extended version of the "Holy Trinity" as well as "rock, paper, and scissors", and initially, we'll have at least five classes (healer, tank, dps, hybrid, crafter) per realm. For more on how the RPS theory applies, please refer to Foundational Principle #6." [1]


The sixth launch class is based on the Archer Archetype. Archers were the first Stretch Goal, which funded before the KickStarter ended.[1].


A Spirit Pet class was introduced and funded through the Spirit In The Sky Extender Pack Plus #1. This class is slated to go in shortly after launch, but may make it in for launch if time permits without delaying the launch. [2].


Stealth classes became the focus of the current [3] Stretch Goal. The initial proposal for a Veil-based stealth introduced during the KickStarter update #28 [4] and also covered in a video update, has been somewhat modified in this version. Besides the VeilWalkers and VeilStalkers, a Scout class has been added.

Much like the Spirit Pets, the stealth classes are not confirmed for launch, though it will be attempted. If it is determined that these classes would delay launch, they will be implemented shortly after launch as Mark Jacobs explained:

Quote: "In terms of implementation, only Part 1 (Camouflage) is currently confirmed for launch.
If we think that Part 2 (Scouts) will delay the release of the game, it will be bumped post-launch, because it is outside of the original concept for stealth. However, I don't want to make this entire SG an Extender Pack, because I think it is important to get these guys in early if we are going to add true stealth as in Part 3. I'm hoping that some of the tech we will need for spirits will help us get scouts in at launch as well.
We will try to get Part 3 (Veilwalkers/Veilstalkers) in before launch, as well. No promises on that one: we can promise that we will work on them for launch, but we will not delay launch for them." [3]
Class Archetypes
Archetypes are general base types from which more detailed classes and class-specific abilities can be shaped.

The Path System
Some (possibly all) classes will utilize the proposed Path System, which was first introduced in the Drengr class concept document. [5]
---
Unrevealed - Archer Archetype
Unrevealed - Crafter Archetype
Unrevealed - Healer Archetype
Unrevealed - Mage Archetype
Unrevealed - Spirit Pets
Unrevealed - Support Archetype
Unrevealed - Warrior Archetype
Unrevealed - Archer Archetype
Unrevealed - Crafter Archetype
Unrevealed - Healer Archetype
Unrevealed - Mage Archetype
Unrevealed - Spirit Pets
Unrevealed - Support Archetype
Unrevealed - Warrior Archetype
Unrevealed - Archer Archetype
Unrevealed - Crafter Archetype
HelBound - Healer Archetype
Unrevealed - Mage Archetype
Unrevealed - Spirit Pets
Unrevealed - Support Archetype
Drengr - Warrior Archetype
---
Sources