Brian Green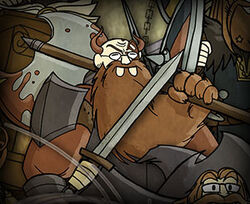 Brian 'Psychochild' Green, a Senior Engineer in CSE, is a veteran MMO developer with over 17 years of experience. His first job in the industry was working on the classic PvP MMORPG Meridian 59, which he later ran under his own company.
This experience gave him insight into just about every aspect of running MMORPGs. In addition to MMOs, Brian enjoys games of all types including tabletop RPGs and board games. He has been (accurately) accused of "rocking a dwarf beard." [1]
In Psychochild's Blog [2] you can find "A developer's musings on game development and writing", with all kinds of gaming (and other) topics , and occasional line or two about his experience with Camelot Unchained.
Gallery
[
]
References
[
]